Gestapo camps and forced labour around and in Leonberg
From July 1st 1944 there was a Gestapo camp on the other side of the town, near the district hospital, in a "Flakkaserne" ["anti-aircraft gunner's barrack"- today Rutesheimerstrasse 50/3b] the construction of which was only partially complete and in which 200 Dutch police prisoners were housed. They were supervised by the local lieutenant of the gendarmerie, who acted on the security police`s instructions. The prisoners were made available mainly to building firms like Dyckerhoff & Widmann, Rostan and Weidle. Further smaller suppliers were established in the town, in connection with the Messerschmitt- arms production. Consequently, there was an army of people, consisting of German employees, guards and foreign forced labour workers, both male and female, to be accommodated privatly and in community quarters.
All extra rooms in inns, three gyms, the protestant parish hall, the "Old pietistic community"` hall, the "YMCA" - house and a "HJ" (Hitler Youth) – house were occupied. Of the 14,000 inhabitants 6,000 were non locals. Leonberg had become a "city under the spell of armaments".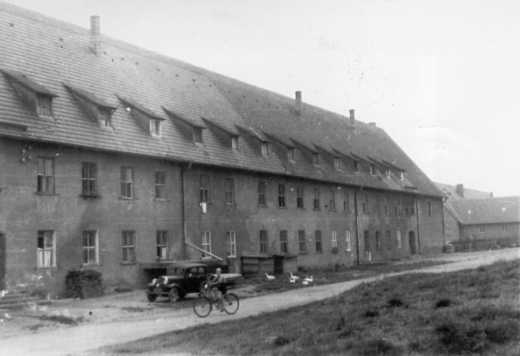 Building III of the "Kaserne", Rutesheimerstrasse 50/3b, formerly containing the gestapo camp Photo from the time shortly after the war.